I met Ninfa Salerno in a warm autumn afternoon when, standing on top of the bridge "dei Pugni", I noticed the elegant showcase of her jewelry shop, a treasure chest overlooking the small venetian canal of San Barnaba, which divides the homonymous square from that of Santa Margherita. After a chat, Ninfa kindly offered to be my guide and made me discover the craft shops among the intricate streets of the district of Dorsoduro, where it's very easy to get lost, but not for those who, like her, are Venetian by adoption.
After finishing her studies in Rome and collaborating with a Parisian atelier in her beloved France, she settled in Venice and opened her workshop: this is how "Papuni Art" was born, continuing to live for fifteen years thanks to Ninfa's creativity, who dives herself in matter, creating harmoniously coloured jewelry, different in lines and shapes but wearable and versatile, never excessive. But I think it's better to give the floor to the person concerned, who has kindly answered some of my curiosities about her art and her connection with a complex reality such as the venetian one, where she has actively dove herself, becoming a member of the association DO.Ve, which brings together the workshops of the district she is part of.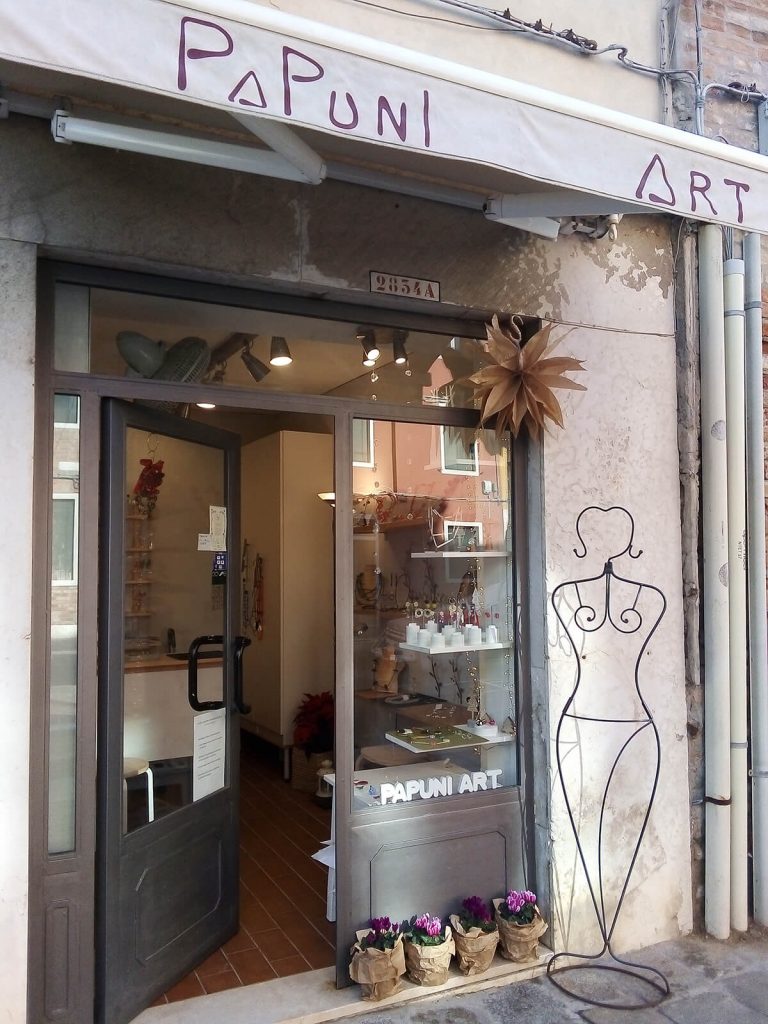 I would like to begin with a curiosity about the name "Papuni Art". What is it related to?
The name comes from "Papunya Tula", a community of Central Australian Aboriginal artists located 300 km away from Alice Springs. Their painting is generally considered as "primitive", but I think it is very close to contemporary art and, even if my creations are not directly linked to their culture, there may be some assonance in my predilection for sinuous lines and for round closed shapes. Besides, through the logo I can give relevance to this millennial population, that has wonderful art and culture, but has sadly been oppressed since the discovery of Oceania: thus, this is a way to honor it.
How did your studies, and in particular your French experience, influence the creation of the jewelry?
Actually, even before my studies it was my education that spurred me in the development of the creative imagination. Then, at the end of my university career I wrote a thesis on French stained-glass windows, because at that time I was painting on glass with a technique reminiscent of the cloisonnè. I have always been fascinated with Paris for the cultural and artistic ferment that characterised the city from the second half of the 19th century to the avant-gardes but, in addition to art, I've always loved France for its way of life, much closer to the costume of the big metropolis and away from Italian provincialism. However, growing and traveling made me change my mind, and today I consider also "our" Italy to be an amazing country which I think has nothing to envy to other nations.
Do you think your work is closer to the artistic world or to craftsmanship?
The issue would require a broad debate, because after the Middle Ages the figure of the craftsman has been relegated to applied arts, which were considered to be less important than painting, sculpture and architecture. Only in recent times this figure has been re-evaluated, also thanks to big fashion brands that employ the excellence of their artisans. The one who masters technical knowledge, combined with manual skills, experience and ability to interpret the designs of others, has a great professionalism; and if we add invention and fantasy, I'd love to define myself as a "creative artisan".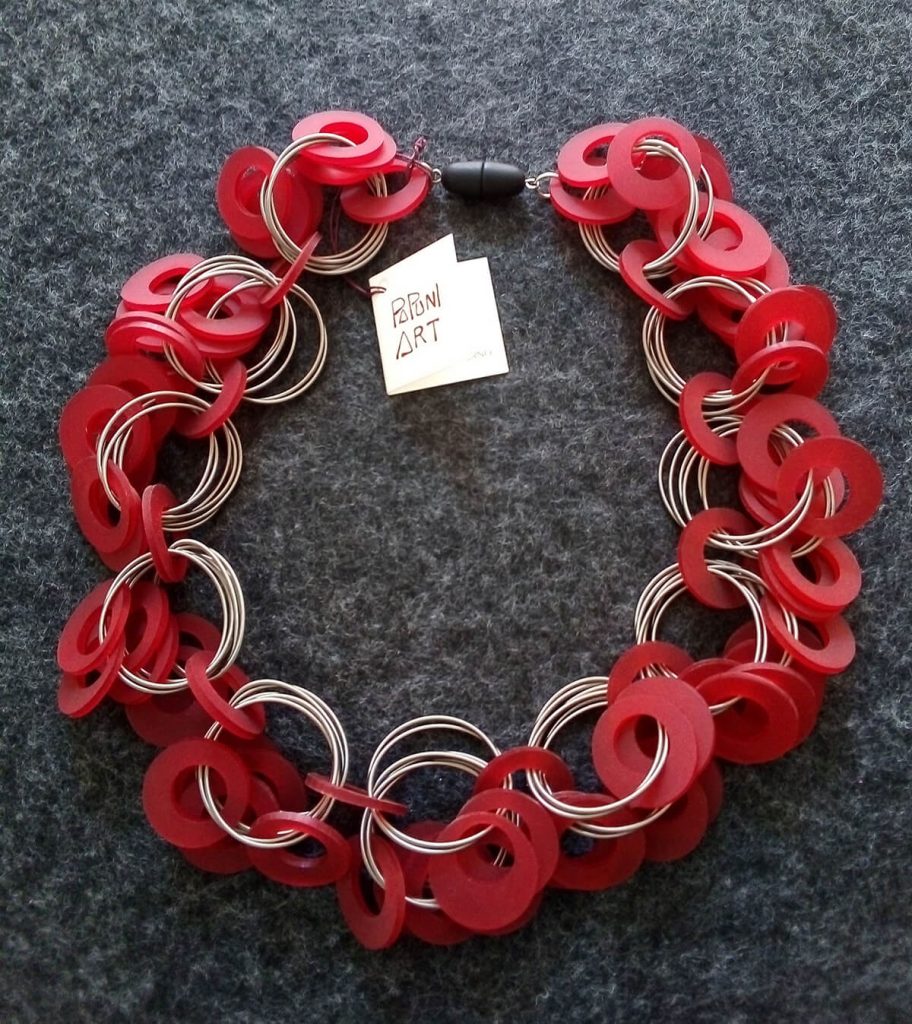 Now I would like to focus on your relationship with the "lagoon city". How hard is it to own an artistic workshop in Venice, a city often seen as "Disneyland", headed more and more towards a mass tourism with the subsequent opening of a large number of standardized souvenir shops?
When I started my activity in 2006, I wanted to realize my secret wish through a space that would become my "little paradise". My jewelry is placed in a narrow market segment (in the early 2000s tourism was not so intrusive) that over time has been successful: through the innovative offer of my jewelry I have retained a local clientele, successfully dedicating myself also to the visitors of the Biennale of Art and Architecture.

Going in line with the previous question, how does the association DO.Ve, of which you are part, support the Venetian workshops in facing a complex market that often requires "reinventing"?
Through the association DO.Ve, of which I was vice-president until a year ago, we have realised several events such as "Fall Festival", the "Festival for the lighting of Christmas lights", the Carnival, photo exhibitions and also children events, all strictly outdoors in the western area of Dorsoduro: to be honest, these were projects as beautiful as they were tiring, but we managed to bring them to reality among the enthusiasm of the residents. Unfortunately, Covid-19 has dispersed many of our energies, but we hope to come back to animate this part of the city at the end of this pandemic.
The will to help shops in difficulty was among our intentions, too, but for a social promotion association it is not easy to deal with issues that even the city council is unable to approach: establishing a conversation between public and private is basically impossible in the absence of explicit laws to protect both.
I would like to thank Ninfa Salerno not only for the participation to this quick interview, but also for allowing me to know an artisanal reality which sets itself apart from the standardized mass of shops that invades venetian streets. I really hope for a change in the trend that for the last few decades has brought to a continuous growth in tourist activities of a scarce artistic quality: shops like that of "Papuni Art" should become the rule, not the exception, overtaking the logic of the market that is distorting the city of Venice.